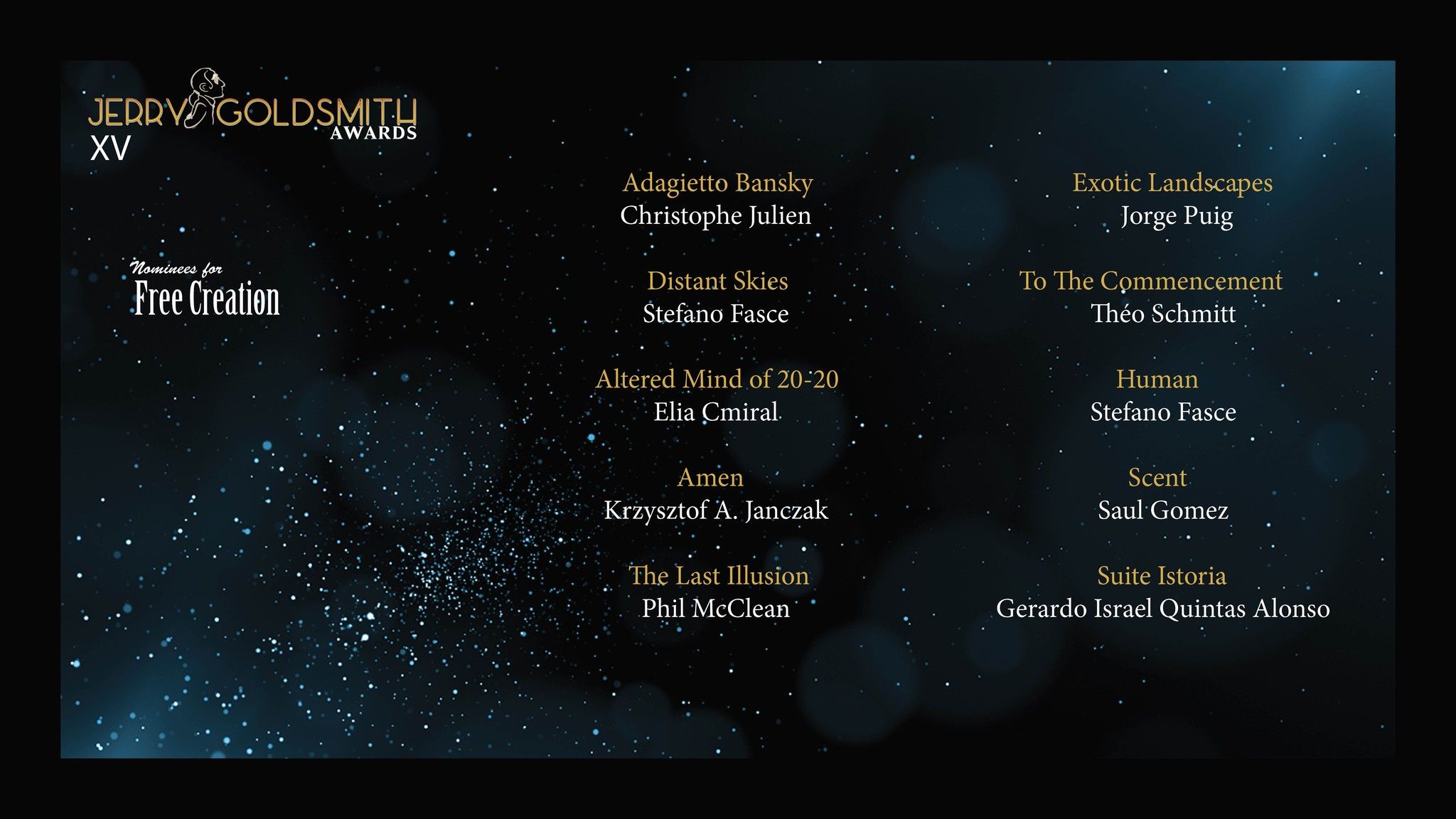 A very Happy Christmas and New Year (or your own preferred holiday sentiment / celebration) to you! Been a long time since I've updated this, but let me tell you of my very strange Christmas evening, but first we must journey back almost two years to the creation of "The Last Illusion".
I knew I'd created something, a little different. It sounded different, it felt different. It felt like mine. It had a personal stamp on it. Like listening to a popular artist and you know, immediately because of the way they sound, that it's them. True, it wasn't for everyone - but that's okay. I write music for me. Around the same time I saw an advertisement for The Jerry Goldsmith Awards whilst googling that particular legend's works to add to my Spotify, and decided with some Dutch courage, The Last Illusion deserved to be considered in the FREE CREATION category. I filled out the necessary documentation and sent it off, laughing to myself and yet patting myself on the back for having the guts to do it.
Long story short, COVID 19 hit and that was that. I didn't hear anything after and thought "Fair dues, young Philip - you still had the guts to send it." Then, completely forgot about it. Mind you, I have already been blessed this year, having placed second in The Cue Tube's General Composition category for "I Catch You". 
Christmas evening 2022, the JGA had updated their nominees in all categories and released the top 10 for consideration. I went into the lists and see a literal icon in Philip Glass, Hollywood big hitters such as Natalie Holt for "Loki", Jeff Russo for "Fargo". My eyes moved through the various categories, until I nearly spat my Guinness out when I spotted a name in the FREE CREATION category. Phil McClean: The Last Illusion. I paused for a second, to double check that it wasn't a cruel combined trick of the evening half light and my Guinness. Then I looked at my wife, eyes wide. "F*** off, f*** off, f*** OFF!!!"
Once I'd calmed down and she'd cleared up that nobody had died or wronged me in some way, she was just as surprised and delighted as I was. 
Naturally, the imposter syndrome is strong. I have received no formal music education bar playing truant from my secondary school music class and being advised that music probably wasn't for me as my recorder skills were extremely limited. My real love with music began when I bought a bass in my late teens and attempted to learn Korn songs, and writing my own with my dear friend Tom. But I have decided that I'm not an imposter, and I will endeavor to try and not feel like one. I have been checking up on my fellow nominees in the FREE CREATION category and the talent is out of this world. To be even selected in the top 10 is enough to make any person blush with pride, especially considering the quality of works mine is measured against. I don't know what's going to happen further down the line as regards ceremony etc, but I will enjoy this moment in the spotlight. Regardless how short the duration it shines on me.